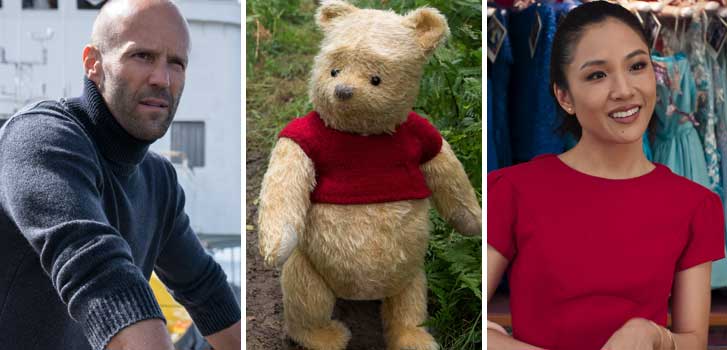 The Meg, Christopher Robin, Crazy Rich Asians and other must-see movies in theatres this August!
Just one month left in the season to catch all the fun, summer blockbusters in the (cushy, air-conditioned) theatre. No sunscreen required… but there may be sharks!
Whoever said summer is all about the outdoors, hasn't seen our August lineup! Make the most of leisurely evenings and lazy Sundays – there's something for everyone in this mix.
Release Date: August 3rd
For Fans of: Kid classics, heartwarming tales and the enduring charm of Ewan McGregor
See it With: The whole family (this one's fun for parents and kids)
We can't think of a better way to bring the family together than to see Disney's Christopher Robin. Winnie the Pooh, Tigger, Piglet and Eeyore are making a grand return, to help their now grown-up friend Christopher Robin (McGregor) rediscover his joy for life. This film inspires waves of nostalgia for Pooh-Bear fans, while also introducing these beloved characters to a whole new generation.

---
Release Date: August 3rd
For Fans of: Dystopic tales, teens on the rise, anything Mandy Moore
See it With: Sure it's made for a younger crowd, but this one's for anyone harbouring the latest YA best-seller on their e-reader
The Darkest Minds is the next teen novel sensation to hit the big screen, and we're anticipating something as compelling as The Hunger Games or Divergent. The premise alone has us hooked: in a futuristic world that fears anyone under the age of eighteen a group of teenagers form a resistance to fight for their power. The film stars a mix of young up-and-comers including Amandla Stenberg and Harris Dickinson, as well as familiar faces Mandy Moore, Gwendoline Christie and Bradley Whitford.

---
Release Date: August 3rd
For Fans of: Spoofs, super-spy gadgets and the fun of watching Kate McKinnon in a bind
See it With: Your best friend and co-conspirator
We were already sold on the concept of Mila Kunis and Kate McKinnon playing best friends, layering in a plot involving an international conspiracy just makes it more exciting. The duo become entangled in a dangerous mission when Audrey (Kunis) finds out that the boyfriend who dumped her is secretly a spy whose life is in danger. These two seemingly ordinary women must rise to the challenge to help him out, throwing themselves into the action with hilarious results.

Release Date: August 10th
For Fans of: Urban legends, horrific stories, tales that keep you up at night
See it With: Your bravest friends
This new horror film is based on the viral internet meme about the "Slender Man," a mythical character who terrorizes children. Even from glimpsing him in the shadows, we're already thoroughly creeped out by this ghoulish figure played by Javier Botet – you may recognize him from your nightmares triggered by his chilling performances in films such as The Other Side of the Door and The Conjuring 2.

---
Release Date: August 10th
For Fans of: True tales that are stranger than fiction, award-winning films, the wry wit of Spike Lee
See it With: A friend who's game to rehash all the controversial plot details after the film
Spike Lee is making his grand return with a film about the KKK, and we can't think of a better filmmaker to tackle this tough subject. Starring John David Washington, Adam Driver and Topher Grace, BlacKkKlansman tells the true story of Colorado police officer Ron Stallworth (Washington) who successfully infiltrated the Ku Klux Klan and became the head of a local chapter. The film won the Grand Prix at the Cannes Film Festival and might be Lee's most controversial and entertaining movie yet.

---
Release Date: August 10th
For Fans of: Big, angry sharks, thrill seeking, watching Jason Statham kick fishtail
See it With: A date you want an excuse to cling to
Jason Statham is no stranger to films depicting crazy, dangerous situations, but The Meg might be his most terrifying yet. Here he plays a naval captain trapped with his crew in deep water in a submersible under attack by the Carcharodon Megalodon. This formidable beast (assumed to be extinct) is the largest marine predator that has ever existed, a shark that by comparison makes Jaws look the size of a goldfish.

---
Release Date: August 10th
For Fans of: ensemble comedies, dogs-as-besties, the goofy charm of Adam Pally
See it With: Your date or second-best friend (sorry, we don't usually allow dogs in the theatre)
Dog lovers will not want to miss this new comedy starring Adam Pally ("The Mindy Project"), Nina Dobrev, Vanessa Hudgens, Finn Wolfhard, and Eva Longoria. Here, we follow various LA residents whose lives are connected by their loveable canine companions. Because what could be more heartwarming than a romantic comedy? One that includes a fuzzy, four-legged cast!

---
Release Date: August 17th
For Fans of: Prehistoric period pieces, stories of survival that require taming the wild beast
See it With: Your kids – this is one they'll remember
You'll want to see this film in beautiful IMAX to make the most of the gorgeous natural landscape that forms the backdrop to this epic survival story. The film stars Kodi Smit-McPhee as a boy who was separated from his family at the end of the last Ice Age. His only chance at braving the conditions comes when he meets a wolf separated from his pack. Their bond marks the beginnings of a friendship that's sure to both inspire and bring you to tears.

---
Release Date: August 17th
For Fans of: The best-selling book series, jet-setting, a Cinderella story
See it With: Friends and family who help you live your best life
Crazy Rich Asians is more than just another hot novel that's been adapted for the big screen, it's a cultural event. At last, a Hollywood film with a cast entirely of Asian descent! No more bit parts and sidekick roles for this talented lineup selected to tell this fun, larger-than-life story of love, family and the good life. Starring Constance Wu, Michelle Yeoh, Henry Golding and Awkwafina, Crazy Rich Asians follows a woman named Rachel who discovers that the man she's been dating is part of the richest family in Singapore.

---
Release Date: August 24th
For Fans of:Tech-y thrillers and the mysteries of the dark web
See it With: Someone who's always there when you need them
A harrowing story told from scenes on a computer screen, Searching stars John Cho as a father who turns to his daughter's laptop to help him find her after she mysteriously disappears. This modern-day thriller plays on the power of technology and the role it plays in current relationships between parents and children. Searching is a thrill ride that will really hit home.

---
Release Date: August 24th
For Fans of: the darker side of puppets, crude jokes, watching Melissa McCarthy be a boss
See it With:Friends who embrace your twisted sense of humour
Some familiar puppets delve into R-Rated territory in The Happytime Murders. Directed by Jim Henson's son Brian, the film tells the story of the puppet cast of an 80's children show who are being murdered, one by one. Melissa McCarthy plays a detective on the case, in an investigation that exposes a dark and raunchy side of puppets that we never saw on prime time.
Warning: Content May Offend

---
Release Date: August 31st
For Fans of: Sci-Fi with an action twist and cool alien technology
See it With: Your brother (or your 'bros)
Kin follows adopted brothers played by Jack Reynor and newcomer Myles Truitt who are on the run from a vengeful criminal. Their only defense is a strange, alien weapon that they've discovered that has something to do with their family connection. The film also stars Zoe Kravitz, James Franco, Dennis Quaid, and Carrie Coon.