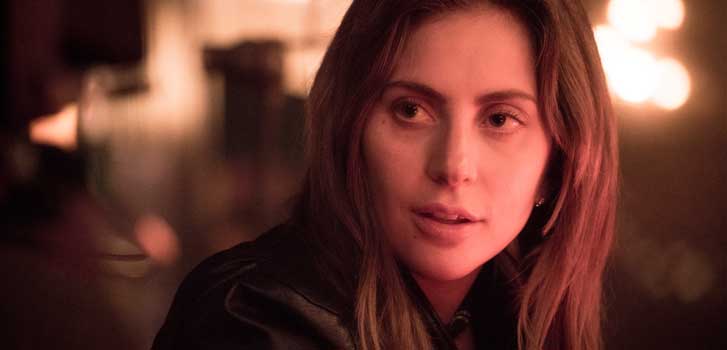 Will A Star Is Born bring Lady Gaga one step closer to a coveted EGOT?
Gaga is on the Edge of Glory right now after her feature film debut, as she and Bradley Cooper reimagine one of the most enduring romantic dramas of our time.
Lady Gaga does nothing in half measures. A true performer, she's made an art of everything from her daring fashion and red carpet appearances to five best-selling albums and epic music videos that have evolved into short experimental art films. Her first major acting credit in "American Horror Story: Hotel" landed her a Golden Globe Award for Best Actress, and now she's back for her feature film debut in A Star Is Born, this time with a leading role and plenty of Academy Award buzz.
No stranger to shock value, Lady Gaga was a surprising choice for the lead, and she delivers a caliber of performance that no one anticipated: A Star Is Born has already achieved critical acclaim (and a 95% rating on Rotten Tomatoes) with early reviews dubbing her performance Oscar-worthy. She told us at TIFF how important it was that she give all of herself to Cooper and this film: "Every project I've ever worked on I've tried to dive as deeply as I could into my soul, and to give it everything."
The third remake of the 1937 original, the story follows a heavy-drinking seasoned musician, Jackson (Cooper), as he discovers and falls in love with aspiring singer-songwriter Ally (Gaga). She's fighting to achieve her dreams, as he struggles to hold onto his. Gaga fans (paws up, Little Monsters!) will get a look at the star like we've never seen her, as she sheds her evocative persona of meat dresses and Kermit the Frog costumes, transforming into an unrecognizably raw and stripped-back actress.
The film was a major passion project for Cooper, who directed, produced, co-wrote, and starred in the movie, as well as performing original songs on the soundtrack with Gaga. The two have expressed the unshakable mutual admiration and bond they formed while making the film, and Cooper has said it only worked because he believed in her as an actress, while she believed in him as a musician.
As accolades and award predictions for her fearless performance roll in, we can't help but wonder if Gaga will be the next to join the entertainment legends who've achieved a coveted EGOT (Emmy, Grammy, Oscar, and Tony). She's already won six Grammys and has received nominations for multiple Emmys and Academy Awards. One thing is certain: When it comes to her acting chops, she's anything but a one-hit wonder and under Cooper's expert guidance, a new movie star is born.
See it with a date.
There's A Million Reasons why you should go see A Star is Born, but if anything, it's the perfect date night movie. Gaga and Cooper's chemistry is so palpable onscreen that it'll likely spark the romance between you and your significant other (or that first Tinder date). Plus it's good to have a shoulder to cry on.
You might also like…